Although the Albanian diaspora is scattered around the world, Albanian cuisine is new to many first-time visitors to Tirana.
It's often described as being similar to Turkish, Greek and Italian cuisine, and you'll definitely find those influences, but Albania has many dishes unique to the various regions of Albania.
In this guide, I recommend the best Tirana food tour, where you'll get to experience a mix of traditional Albanian cuisine, regional specialties and local street food.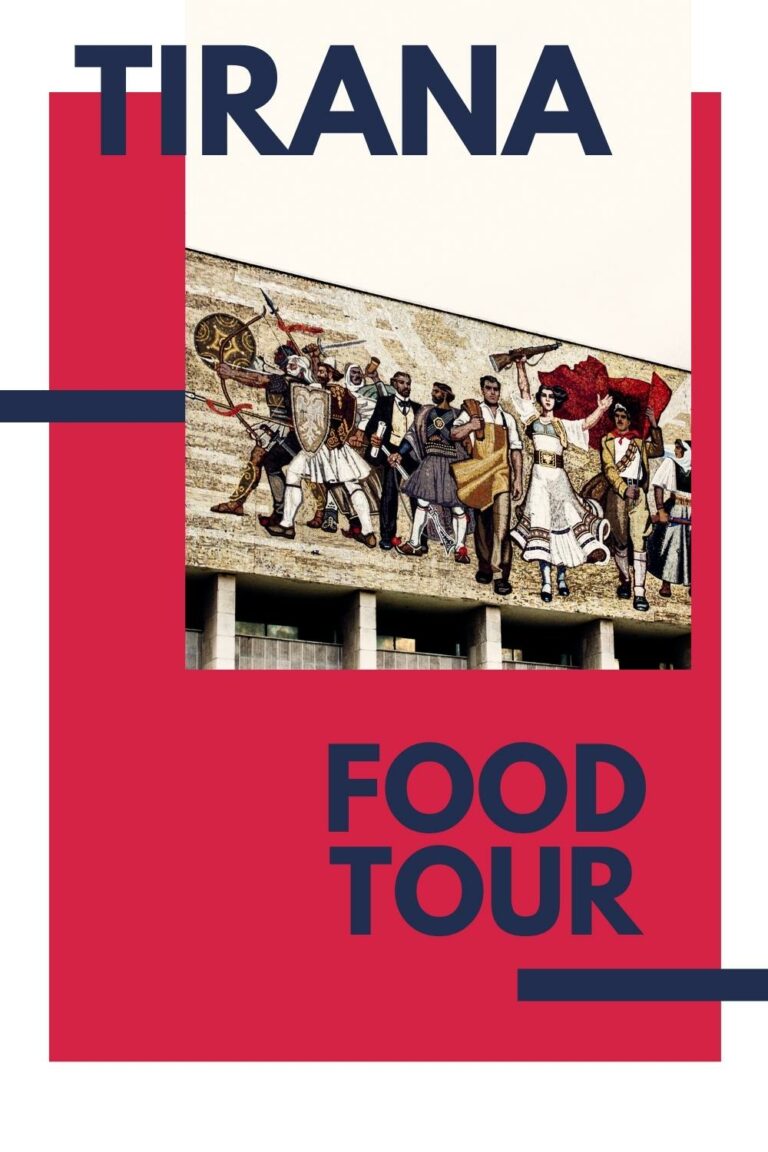 Tirana Food Tour
The centre of Tirana's food culture is found in the New Bazaar neighbourhood, known as Pazari i Ri in Albanian.
The historic location of the old food market was recently renovated and modernised.
Now you'll find locally grown fresh fruit and vegetables, bakeries, cafes, restaurants and street food eateries.
Of course, there's a lot to see outside of the market, and one of these food tours will guide you to what's on offer.
Top Pick
Food Tour in Tirana
Duration: 1 day
This food tour is focused on exploring the fantastic New Bazaar neighbourhood in the centre of Tirana. A local guide will lead the tour where you'll sample 20 different tastes of Albania. You'll also get to see a few of the city's major sights around Skanderbeg Square, the historic central square.
Features:
Kërnacka Korca meatballs.
Learn about Albania's history and culture.
Get to try 20 samples of Albanian cuisine and specialty drinks.
Finish the tour with locally grown fruit and homemade baklava.
Pros: This is the most well-known and respected food tour in Tirana and you won't find any others like it. You'll get an excellent understanding of Albanian food culture.
Cons: The tour is quite expensive but keep in mind it's a full-day tour and you'll get to try a lot of food with a professional guide. The tour is not accessible for those with mobility issues.
Check Availability
Next Best
Guided Walking Food Tour with Breakfast & Lunch
Duration: 6 hours
Embark on a Tirana food tour, starting with a traditional breakfast at Mengjezore. Breakfast usually involves multiple sweet and savoury dishes and is one of Albania's traditional foods or meals.
Next, visit the New Bazaar for a taste of byrek, Albania's traditional pie dish, and a chance to explore nearby attractions.
After a coffee break, walk through the boulevard and the Blloku district and indulge in fergese me qofte, a famous Albanian dish for lunch.
Continue exploring the city with a visit to the castle and an olive oil shop to learn and taste the local olive oil-making tradition.
Map: Tirana's New Bazaar
Communist History Tour with Street Food
Duration: 8 hours
If you're interested in Albania's communist history but want to try local specialties, this excellent tour combines history and street food.
Although it has been 30 years since the fall of communism in Albania, it continues to influence many aspects of local and political life.
This tour includes a visit to the famous Bunk' Art Museum, a concrete nuclear bunker built by the country's former dictator to protect himself against foreign invasion.
You'll get to try Albanian meatballs, called qofte, and a number of street food specialties.
UNESCO Heritage & Local Food Tour with Nature
Duration: 8 days
This is quite different from the food tours mentioned above as this is an 8-day tour that takes place over a number of cities, including Berat and Gjirokastra.
This isn't a Tirana food tour, but I include it here as the tour focuses on food and nature.
The price includes multiple meals, snacks and wine tasting, and you'll take part in a countryside cooking lesson.
This post is part of our series of food in the Balkans region of Europe.
Traditional Albanian Food
The food in Albania is generally simple and hearty and uses fresh, seasonal ingredients.
Some popular Albanian dishes include:
Tavë kosi: A traditional baked dish made with lamb and rice, covered in a creamy yogurt sauce.
Fërgesë: A dish made with peppers, tomatoes, onions, and cheese, usually served as a side dish or with bread.
Byrek: A savoury pastry filled with cheese, meat, or vegetables, similar to a Turkish borek.
Qofte: Albanian meatballs made with ground beef or lamb, onions and spices.
Pite: A traditional Albanian pie made with layers of filo pastry filled with meat, cheese, spinach, or leeks.
Baklava: A sweet pastry with layers of filo pastry, filled with chopped nuts and honey syrup.
Japrak: Stuffed grape leaves filled with rice, ground meat, and herbs. Like Greek dolmades.
Tave Elbasani: A casserole dish made with lamb, eggplant, tomatoes, and peppers.
Albanian Street Food
Albanian street food is diverse and delicious, with many options to choose from. Here are some examples of popular Albanian street foods:
Byrek: A savoury pastry filled with cheese, meat, or vegetables like spinach or leek.
Panini me qofte: Albanian meatballs made with ground beef or lamb, onions, and spices, served in bread.
Kremviçe: Grilled meat patties made with a mixture of beef and lamb, served in a pita or flatbread with vegetables and sauce.
Sufllaqe: Grilled meat skewers made with beef, lamb, or chicken, often served with bread or rice.
Trileçe: Three layered milk cake served with whipped cream.
Tulumba: A deep-fried dessert soaked in syrup.
Petulla me mjalte: Albanian fried dough, kind of like a doughnut, often served with honey.
Kulacka me kos: A fried dough filled with cheese, spinach and yoghurt.
Ballokume: A sweet pastry made with flour, sugar, and butter, often flavoured with vanilla or lemon.
If you're interested in learning about Albanian cuisine before you visit Tirana, this article provides an excellent overview.
Responsible Travel Tips
Many of us are increasingly concerned about climate change and sustainability.
If you want to travel more responsibly in Tirana, there are several things you can do to minimise your impact on the environment and support the local community:
Choose sustainable transport: Opt for walking, cycling, or public transport instead of taxis or rental cars, which can contribute to traffic congestion and air pollution. Tirana has a bike-sharing system and an extensive bus network that covers most of the city.
Support local businesses: Eat at local restaurants, shop at markets and stores selling locally-made products, and visit cultural attractions that support the local community. This helps contribute to the local economy and preserve the city's cultural heritage.
Minimise food waste: Be mindful of how much food you order and consume, and take leftover food with you if possible. Many Albanian restaurants serve generous portions, and wasting food is wasteful and contributes to environmental problems.
Choose sustainable diets: Try traditional Albanian dishes made with local ingredients with a low carbon footprint. For example, fërgesë is a vegetarian dish and has a low environmental impact.
Support renewable energy: Consider staying at hotels or other accommodations that use renewable energy sources, such as solar or wind power. Tirana has several eco-friendly accommodations that are committed to reducing its carbon footprint.
By following these responsible travel practices, you can help preserve Tirana's natural beauty and support the local community. Together, we can create a more sustainable future for Albania.
If you have questions or want to leave a tour review, please do so in the comments.
—
Recommendations are independently chosen based on personal travel experiences and extensive research. This post contains affiliate links to food tours in Tirana, Albania. This means I get a small commission from any bookings at no extra cost to you.