Albania had a primarily rural population until fairly recently. Following the collapse of the communist regime, many Albanians migrated to cities or left the country altogether, leaving their family farms behind.
Consequently, numerous properties and villages were left unattended, a common pattern witnessed in other former communist countries.
But the last few years have seen a resurgence of small farms, redeveloped with tourism in mind but with quality local and seasonal produce at the forefront.
In this guide, I share where you can find the best agriturismo or farm stays in Albania.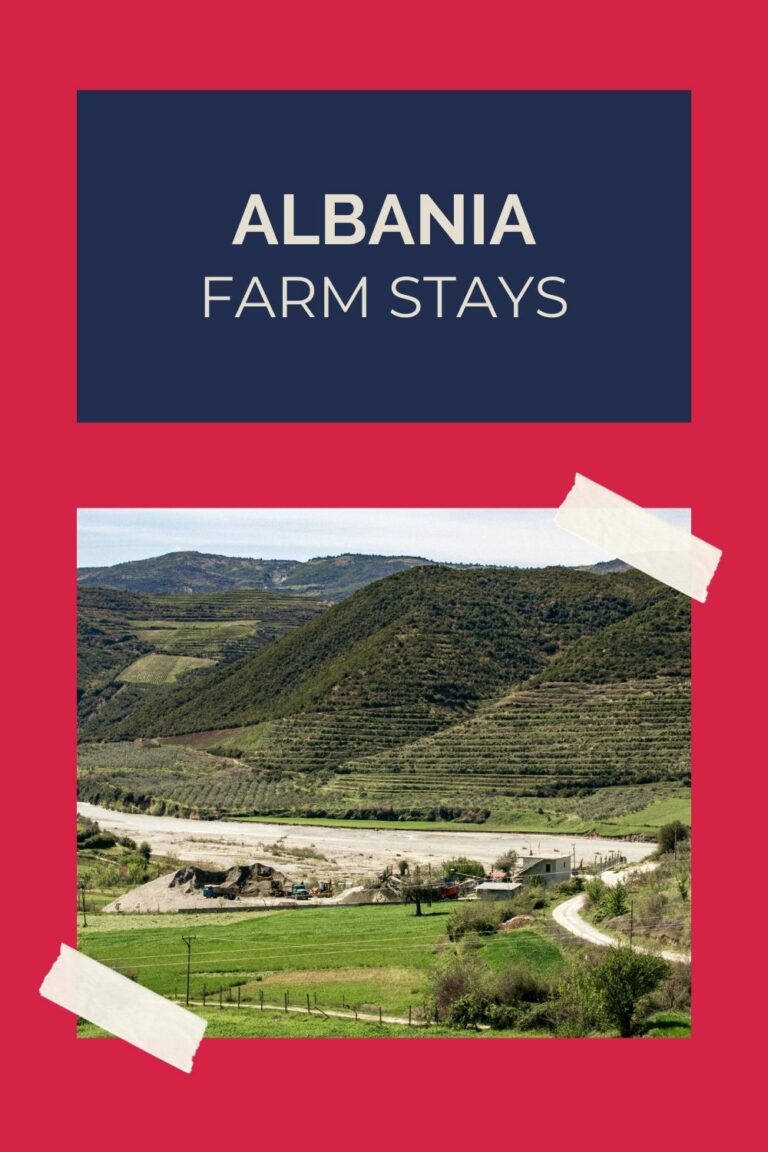 Agriturismo Albania
Agriturismo in Albania are locally owned businesses that provide farm stay accommodation for tourists while growing their own food, raising livestock and providing other services to tourists like hiking, transport and tour guides.
Agritourism, or farm stays, in Albania, has become increasingly popular in recent years, especially among tourists who are looking for an authentic and unique experience.
What makes farm stays popular is access to farm-to-table meals prepared with fresh, locally sourced ingredients.
If you've ever eaten an Albanian salad with freshly picked tomatoes, you'll know just how incredible locally grown food is in Albania.
The food is grown primarily for flavour more than anything else and it makes all the difference.
Albanian Farm Stays
At this point in time, most Albanian farm stays are located in the north of the country, predominantly around Shkodra, Theth and Valbona.
But your find one of Albania's best farm stays near Korca, and agritourism is increasingly popular in southern regions of the country, which is known for its fertile soil, mild climate, and stunning natural beauty.
The cities of Berat and Gjirokastra are also popular destinations for agritourism, with many farms offering traditional accommodations such as guesthouses, cottages, and small family-run hotels.
If you're looking to book a farm stay in Albania, the following small agriturismo accommodations stand out above the rest.
Top Pick
Mrizi i Zanave Agroturizëm
Address: Fishtë Blinisht, Lezhë, Albania
Albania's most famous and luxury farm stay, Mrizi i Zanave is located not far from the northern Albanian city of Shkodra. The unique architecture is a mix of traditional stone and modern glass, the food is exceptional and the garden is overflowing with fresh produce.
Features:
Stunning rural location south of Shkodra.
High quality organic food.
Delicious meals.
Closeness to nature.
Pros: The highest-rated and most well-known farm stay in Albania and rightfully so.
Cons: Accessibility may be an issue.
Check Availability
Location of Mrizi i Zanave
In my opinion, this is the top farm stay in Albania. However, if you have a preference for a different location, you might like my next choice.
Agriturismo Near Tirana
Kulla Hupi
Address: Rruga Skënderbeu, Dushaj Lagjia Lepurakë, Bulqizë
Location: 90-minute drive east of Tirana.
Kulla Hupi Guesthouse in Bulqizë is a restored two-hundred-year-old traditional Balkan tower house that preserves Albanian traditions. The guesthouse offers accommodation, delicious traditional food, and activities such as horseback riding and hiking. The property is surrounded by a beautiful landscape and modern amenities while maintaining its historic charm. Overall, it is a unique and authentic experience for those looking to explore the Bulqiza region.
Agriturismo Near Shkodra
Agriturizëm Hylli Drites
Address: Rruga lezhe vaudejes trosha, Lezhë, Albania
Location: 35 minutes south of Shkodra.
Hylli i Drites is an upmarket farm stay located on a hill overlooking the Lezha countryside, and it is perfect for travellers driving from Shkodra to Tirana. The farm stay has earned a reputation for its Albanian meals, which are prepared with fresh, locally-sourced ingredients and highly praised by visitors and locals from nearby regions. You can enjoy a beautiful view of the surrounding countryside during the extensive breakfast. In addition to the delicious food and stunning views, the rooms are also a highlight of the stay. They are modern, spacious, and comfortable, with large, well-appointed bathrooms.
Budget Farm Stays
Farm Sotira
Address: Rruga Nacionale Leskovik, Gërmenj
Location: 90 minutes south of Korca.
Farm Stay Sotira is a top-rated farm stay in southern Albania, located between Korca and Gjirokastra. The accommodation features a restaurant and bar serving traditional Albanian cuisine and offers horseback riding and fishing activities. Guest rooms are simply furnished with access to a shared bathroom, while the lush garden and terrace provide comfortable outdoor seating. Surrounded by forested mountains and greenery, this tranquil farm stay offers a unique and enjoyable experience for those seeking an authentic Albanian getaway.
Logu i Harushave
Address: Rruga Fushe, Theth, Albania
Location: Located in Theth, 1 hour 45 minutes northeast of Shkodra.
This farm stay is located in the Theth region of Albania and offers traditional Albanian meals and interaction with farm animals. The location is central in Theth, with a nearby restaurant and bar. The staff is friendly and helpful, but the rooms have thin walls and the farm stay may not be on the same level as other options in Albania.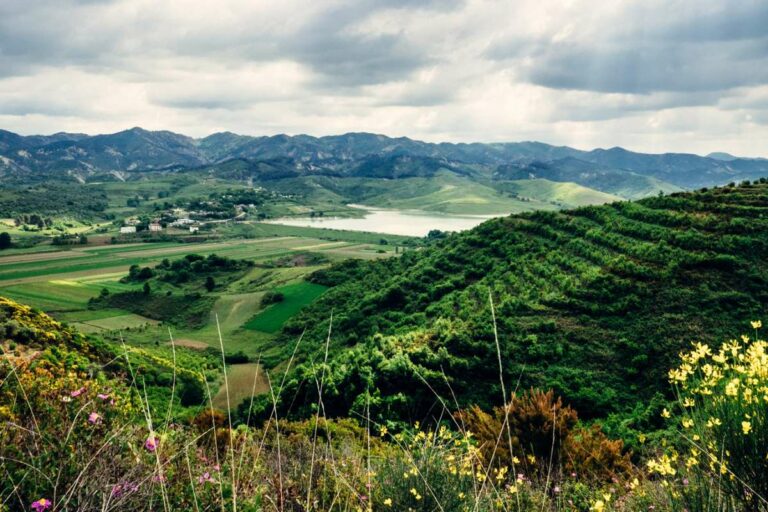 What to Expect at an Agriturismo
In the Albanian language, farm stays are called agriturizëm, but you'll sometimes see the Italian word agriturismo used.
Staying at a farm stay or guest house in Albania typically means that you will be staying in a rural setting, surrounded by natural beauty and farmland.
These accommodations are often family-owned and operated, and they offer a chance to experience Albanian hospitality and culture up close.
You can expect to eat traditional Albanian food made from local ingredients, interact with farm animals, and enjoy outdoor activities such as hiking, horseback riding, and fishing.
In addition to offering travellers a unique and immersive experience, agritourism in Albania also helps support local farmers and preserve traditional farming practices.
It also provides an opportunity to learn more about Albanian culture and rural life.
Accommodation in Albania
When it comes to farm stays or guesthouses in Albania, the rooms are often more basic than what you would find in a typical hotel.
This means the rooms might have fewer amenities and be furnished with simpler furniture. For example, the room may not have a TV or minibar. Additionally, the bedding and decor may be more modest.
However, the rooms are generally clean and comfortable, and they provide a cosy and authentic experience that can't be found in a traditional hotel.
Many travellers actually prefer the simpler and more rustic atmosphere of farm stays, as it can be a refreshing change from the typical hotel experience.
Albanian Food
As a food lover visiting Albania, you should definitely try some of the most famous dishes in Albania. If you're lucky, some of these will be on the menu at your farm stay.
Tavë kosi: Albania's national dish made from baked lamb or beef in a yogurt and egg sauce.
Fërgesë: A popular dish made from green and red peppers, tomatoes, onions, and cottage cheese.
Byrek: A savoury pastry filled with meat, cheese, spinach, or vegetables.
Qofte: Delicious meatballs made with ground beef, lamb, or pork. In the larger cities, you'll increasingly find vegetarian qofte too.
Baklava: A sweet dessert made with layers of phyllo dough filled with nuts and honey syrup.
Flija: A traditional dish made from layers of crepe-like dough, often served with yogurt.
Sarma: Rolled grape leaves stuffed with a mixture of rice and meat.
Raki: A strong alcoholic beverage made from grapes or plums, often served after dinner but occasionally with breakfast if you're game!
Farm and Outdoor Activities
Albania offers a wide range of outdoor activities, including hiking, horseback riding, rafting, kayaking, mountain biking, and skiing.
If you're staying on a farm stay in Albania, you can also participate in farming activities like picking fruits and vegetables or milking cows.
Many farm stays are located in rural areas surrounded by natural beauty, making them perfect for activities like birdwatching, fishing, and swimming in natural pools or rivers.
Some farm stays also offer guided tours of the surrounding countryside or visits to nearby historic sites.
Discover the authentic flavors of Albania and immerse yourself in its rich culture with my comprehensive guide, which offers insights into the country's traditional cuisine, local customs, and unique way of life.
Responsible Travel Tips
If you want to travel responsibly in Albania, look for an agriturismo that promotes sustainable tourism and local economic development.
Choose a farm stay that minimises waste and recycles as much as possible. Consider reducing your meat and dairy consumption and opt for plant-based food instead.
This is relatively easy to do in Albania as Albanians often adhere to a Mediterranean-style diet that favours lots of fresh fruit and vegetables.
Look for places that support local communities and have positive social impacts. For example, by choosing accommodations owned and operated by locals and contributing to the local economy by employing local staff, purchasing goods and services from local suppliers, and supporting local cultural and social activities.
Finally, choose a farm stay that offers eco-friendly outdoor activities such as hiking, cycling, or horseback riding, and take care not to damage the natural environment. Again, this is easy to do in rural Albania and is one reason people love to visit Albania.
Final Thoughts
Staying at an agriturizëm in Albania can be a great way to experience the country's unique culture and hospitality while also enjoying the beautiful natural landscapes.
You can expect to eat delicious homemade food, interact with farm animals, and potentially participate in outdoor activities like hiking or horseback riding.
However, it's important to keep in mind that the accommodations may be more basic than what you would find in a hotel, and you may need to adjust your expectations accordingly. Although, my top two accommodation recommendations are almost like luxury hotels.
When choosing a farm stay, it's important to consider your stay's social and environmental impacts and choose places that support local communities and are committed to responsible tourism practices.
Overall, a farm stay in Albania can be a wonderful and authentic way to experience the country's charm and hospitality.
If you have questions or want to leave an accommodation review, please do so in the comments.
—
Recommendations are independently chosen based on personal travel experiences and extensive research. This post contains affiliate links to tours in Albania. This means I get a small commission from any bookings at no extra cost to you.